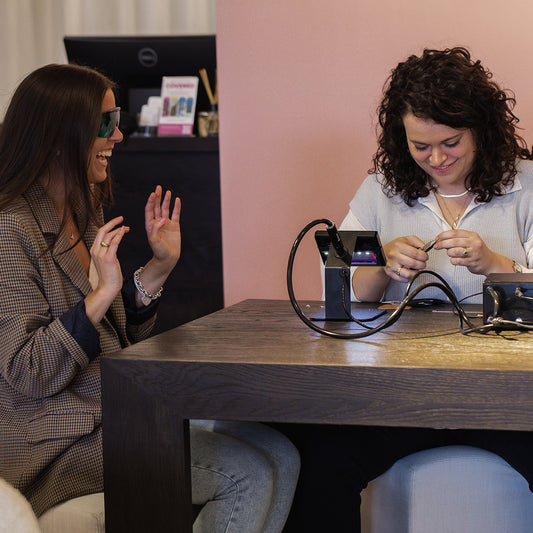 CÉLESTE at Diamond Cellar
Schedule a permanent jewelry appointment with our friends at Diamond Cellar on Sawmill Road. Available every Friday & Saturday from 11am to 5pm.
Schedule an Appointment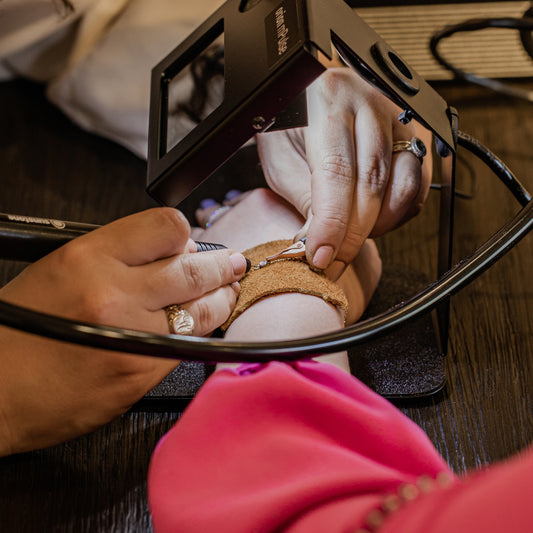 What is Permanent Jewelry?
Go claspless. The Always Bracelet is fit to your wrist and welded together by one of our goldsmiths. Visit us in-store for low-maintenance fine jewelry that is always with you.
The Always Bracelet
Prices below include Always Bracelet up to 7.5 inches with a micro diamond. For larger bracelets there is an additional cost per inch based on chain style.
Frequently Asked Questions
What does getting sparked mean?
Sparking is the process of custom fitting a solid gold bracelet directly on you! Your Always Bracelet will be a perfect fit for your wrist with no clasp!
It's pretty simple! Pick your chain, we fit to your wrist, one of our talented goldsmiths will weld it on, and voila - an Always Bracelet.
Nope! The "spark" is just on the jewelry. You won't feel a thing. There is a bright flash, but we'll give you *very cute* protective eyewear.
While the Always Bracelet is meant to last for always, if you wish to remove it, it can be taken off with scissors. Please note that permanent does not mean invincible; it is designed for everyday wear but should be treated as fine jewelry.
What if I need to remove it? Can I get it re-sparked?
We are happy to re-spark any Always Bracelet purchased from Céleste Created Diamonds or Diamond Cellar for the lifetime of your bracelet. If you need a longer chain, you will have to purchase a new piece.
What about Always anklets and necklaces?
We have decided that bracelets are best suited for welding and maintenance, so that is all we offer at this time.
I have a bracelet I want to make permanent. Can I bring it in to get sparked?
For your safety, we are only able to spark chains purchased from Céleste Created Diamonds or Diamond Cellar.